Our Fireside Tea is a new offering from our local certified organic wholesaler. Their organic herbs and herbal teas are of superior quality. Upon completing our own taste tests resulted in a warming, relaxing and comforting wholly organic tea infusion.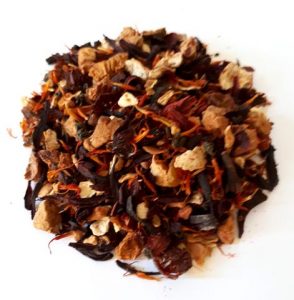 This tea blend is a perfect balance of complimentary herbs and spices, accented with citrus fruit pieces for a full bodied aromatic and flavoursome tea blend. The hibiscus provides a deep red colour and slightly tart flavour but does not overpower the other ingredients, the cloves, cinnamon and safflower give a subtle spicy and warming undertone to the blend, the citrus fruit pieces of apple, orange peel and lemon peel add a little tang. All in all, the blend is a healthy and inviting, tasty blend guaranteed to warm and satisfy the heart, mind and body.
As the months begin to cool and we look forward to being warm and cosy, snuggled under a warm blanket in-front of the heater or fireplace just image enjoying a nice hot cup of Fireside Tea.
Ingredients: 100% Totally Organic, Apple bits, Hibiscus, Gunpowder Tea, Rosehip shells, Cloves, Orange Peel, Lemon Peel, Cassia Cinnamon Bark and Safflower Petals
Some of the health benefits of Fireside Tea include: antioxidant, antiseptic, anti-inflammatory, rubefacient (warming and soothing), carminative and anti-flatulent properties, Vitamins A & C, positive skin effects, immune boosting, heart protecting, lower cholesterol levels, manage blood sugar.
Method: Add 1 teaspoon of the blend to make 1 cup of tea, add boiling water to cover, leave to infuse for 5 minutes before drinking. If you like your tea a little sweeter, add a little honey and enjoy!
Status: Certified Organic